A New Home
Players will train, study, eat, learn and grow.
Once opened, the Fertitta Football Complex will become the day-to-day home of our football program. This is where your Rebels will train, study, eat, learn and grow as players and improve as men. This is where one of the nation's youngest college football programs takes that next step on the path to sustained success.
The man driving the dream, head coach Tony Sanchez, understands the community and is known in our city for being a winner. Now, he is a Rebel and it is time for his brand of winning to happen on an even bigger stage.
The Fertitta Football Complex will be built centrally on campus, on the edge of Rebel Park and will offer UNLV players a state-of-the-art headquarters to prepare for success on the field, in the classroom, and in life. For the first time, players will have unrestricted access to the tools needed to improve athletically and academically.
The impact of the facility will be immense in both improving current players and attracting future Rebels.
For more information call the Football Office at 702-895-2474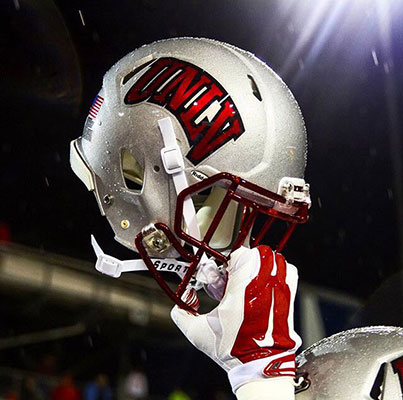 Quotes
What are they saying about the project?
Athletics are a critical part of the university experience and the window through which many see and form opinions about us. As we implement our strategy to become a top tier public university in research, teaching and community impact, the same commitment must be made to Athletics for our teams to be competitive now and in the future. Tony (Sanchez) has brought a new vision and level of energy for UNLV football. His coaching staff and players deserve facilities that will allow the program to grow and succeed.

Cutting-edge facilities are essential to competitive excellence in college athletics. The Fertitta Football Complex provides UNLV football and Coach Sanchez a state-of-the-art center for developing student-athletes, attracting elite recruits and maximizing performance on the field. Providing a championship experience for our student-athletes is critical. With this facility, we are setting that standard for our football program and our entire athletics department. The Fertitta Football Complex truly represents a turning point for the future of UNLV football.

We are blessed to live in this world-class city and be able to offer young people an opportunity to attend one of the nation's emerging universities set in one of the most exciting communities in the nation. Las Vegas and UNLV have so many built-in advantages, but the one thing we are behind in when attracting future Rebels is a football facility such as this -- not just among the nation's elite programs but also in our very own conference. With so much at stake in the world of college athletics, this new building is vital to our future success as a program, an athletics department, and a University.